Air Force allocates $13.5 million toward Oscoda PFAS remediation
By Jenny Haglund | Iosco News | March 3, 2020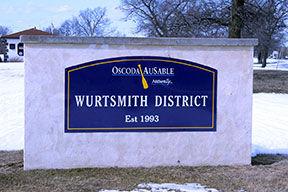 Read the full article by Jenny Haglund (Iosco News)
"WASHINGTON, D.C. – U.S. Senator Gary Peters (MI) and Congressman Dan Kildee (MI-05) each issued press releases on Feb. 27, announcing that the Air Force (AF) will allocate $13.5 million toward per- and polyfluoroalkyl substances (PFAS) remediation efforts around the former Wurtsmith Air Force Base (WAFB) in Oscoda.
Peters and Kildee say this funding comes from $60 million that Congress had recently provided the Department of Defense (DoD) to spend to address PFAS contamination at decommissioned bases around the country.
'I am excited to see that the Air Force is now taking stronger financial steps to contend with the contamination stemming from [WAFB],' stated Oscoda Township Supervisor Aaron Weed.
'The Air Force has obligated very little funds in the past to treat the PFAS contamination seeping from this former air base, but I am hopeful the $13.5mil they are now obligating will be used to stop the PFAS from continuing to contaminate our ground and surface waters,' he added. 'I thank all the Senators and Congressmen who joined this effort urging the Air Force to take this action.'
Last month, Peters – along with U.S. Senator Debbie Stabenow (MI), Kildee, Debbie Dingell (MI-12), Brenda Lawrence (MI-14), Elissa Slotkin (MI-08), Andy Levin (MI-09), Haley Stevens (MI-11) and Rashida Tlaib (MI-13) – wrote to AF Secretary Barbara Barrett requesting that the AF prioritize WAFB and key former military installations in Michigan.
'When I brought Assistant Air Force Secretary Henderson to Oscoda last year, the message was clear: the Air Force must do more to cleanup PFAS contamination that has devastated the Oscoda community,' said Peters.
'I joined my colleagues in pressing for more funding at Wurtsmith because Michiganders deserve answers and actions,' he continued. 'This funding is an important step towards stopping the continued spread of PFAS contamination from the former base, and reducing PFAS exposure in the community. I'm going to continue pushing for additional action and federal resources to address this crisis.'
'PFAS contamination is a growing threat to public health in Michigan,' said Stabenow. 'This is an important step forward but we all need to stay vigilant to making sure we clean up this contamination in this community and across the state.'
'For years, I, along with Senators Peters and Stabenow, have been advocating for the Department of Defense to allocate more money to clean up toxic PFAS chemicals at former Wurtsmith Air Force base,' Kildee stated.
'Oscoda residents and families have been waiting far too long for the Air Force to act more urgently. I am happy to see the Department of Defense finally provide funding to clean up PFAS at Wurtsmith, but still more funding is needed to protect Oscoda residents from PFAS leaching into the drinking water,' Kildee went on. 'I will continue to fight with my Senate colleagues for funding for Wurtsmith until all of the toxic PFAS chemicals are cleaned up.'
'More funding for PFAS cleanup in Michigan is welcome news. [WAFB] has been contaminated for far too long and I'm pleased the Air Force is allocating more funding to help clean up this site,' added Dingell…"
This content provided by the PFAS Project.
Location:
Topics: