Defense Department says "forever chemical" cleanup costs will dwarf earlier estimates
By Rebecca Beitsch | The Hill | September 17, 2019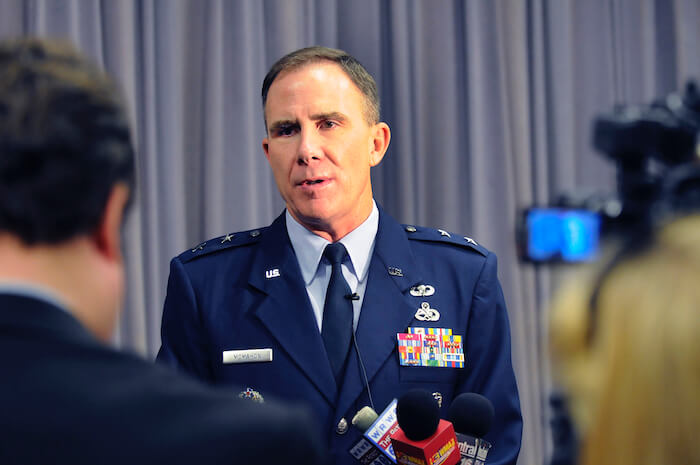 Read the full article by Rebecca Beitsch (The Hill)
"Military leaders said Thursday that "forever chemical" contamination costs are likely to surpass their original $2 billion estimate as Congress works to push the Department of Defense (DOD) to clean up contaminated water across the country.
The class of chemicals abbreviated as PFAS is used in a variety of products ranging from nonstick cookware to raincoats. It's also used in the firefighting foam that has been heavily relied on by the military. As PFAS leaches into the water supply it's dubbed a "forever chemical" due to its persistent presence in the environment and the human body.
The House and Senate are preparing for a conference committee on the National Defense Authorization Act (NDAA) this month, and both versions of the bill push for greater military response to clean up PFAS that has spread from military instillations to nearby communities.
Sitting down with reporters for the first time since DOD created a PFAS task force, Assistant Secretary of Defense for Sustainment Bob McMahon said the department has taken measures to ensure that service members are not drinking water laced with the chemical that has been tied with cancer and other health issues.
DOD has identified at least 425 military sites where water has been contaminated by PFAS, and their first efforts have been to offer bottled water at the 24 sites where contamination was beyond the 70 parts-per-trillion level recommended by the Environmental Protection Agency (EPA).
"We are committed to ensuring that we have a safe place for our people and their families to live, work, play and pray," McMahon said of the task force, which Defense Secretary Mark Esper created in his first day on the job.
But there are still 401 other military installations where lower levels of PFAS remain in the water.
Also of concern to lawmakers is how DOD will take responsibility for nearby communities whose water supply has been tainted at least in part by the military's use of products containing PFAS.
Sen. Tom Udall (D-N.M.) has pushed to add a provision to the NDAA that would require the military to help farmers clean up their water supply after cows at a New Mexico dairy farm had to be slaughtered once their milk became tainted with PFAS.
Another provision pushes the DOD to enter into cooperative agreements with states, an effort by lawmakers to force the military to tackle water issues without outside intervention from the EPA.
McMahon said when contamination clearly extends from a base, it becomes a military responsibility.
But some communities have been frustrated by efforts to get DOD to take financial responsibility for cleaning the water.
"In some cases, there are multiple sources out there feeding a well system for a community. So the challenges become delineating responsibility in those installations," McMahon said.
DOD officials weren't able to fully explain how they make that assessment.
"I would admit these are very complicated questions, but we need to make sure that we fully understand how the water is flowing and how the chemicals are moving in the water so that we make the right decision up front," said Maureen Sullivan, deputy assistant secretary of defense for environment.
Increased responsibilities would mean an increased price tag for DOD. Sullivan said DOD will have to factor in new technology and the cleanup required to get a sense of how much beyond the $2 billion originally projected for cleanup will cost DOD.
"Do I think it's going to be bigger than that? The answer is yes," she said."
Location:
Topics: