EPA releases PFAS analytic tools
EnvironmentAnalyst | January 13, 2023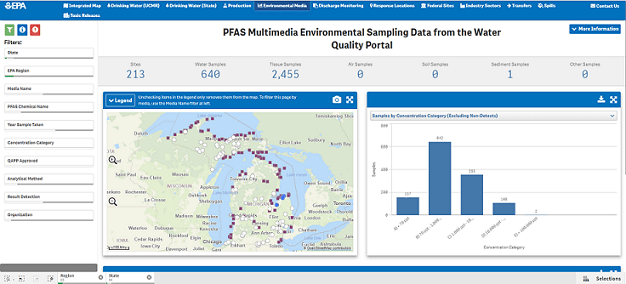 Read the full article (EnvironmentAnalyst)
"John Dombrowski, director of EPA's Office of Compliance, said that the webpage PFAS Analytic Tools brings together multiple sources of information. Its mapping and filtering functions allows users to see where PFAS has been discovered and at what levels. He commented: 'It will help communities gain a better understanding of local PFAS sources.'
The data includes information on spills and discharges containing PFAS constituents, facilities historically manufacturing or importing PFAS and federally-owned locations where PFAS is being investigated. It also covers transfers of PFAS-containing waste, PFAS detection in natural resources, such as fish, and drinking water testing results.
Dealing with PFAS contamination was included in President Biden's Build Back Better agenda and the bipartisan infrastructure deal. In October 2021, EPA announced 'aggressive timelines' to set enforceable limits for PFAS contamination of drinking water, under the Safe Drinking Water Act."
This content provided by the PFAS Project.
Topics: