Firefighters denied coverage by veterans affairs after exposure to PFAS firefighting foam
By Sharon Lerner | The Intercept | June 5, 2021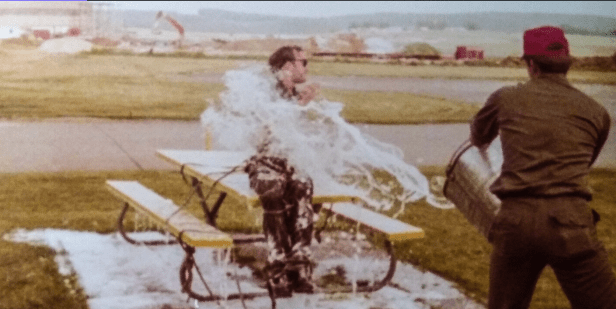 Read the full article by Sharon Lerner (The Intercept)
"When Kevin Ferrara was starting out in the Air Force in 1991, he and his fellow firefighters developed a method for cooling each other down. His training at Chanute Air Force Base in Illinois involved repeatedly putting jet fuel and other chemicals and debris into a pit, setting them on fire, and then putting the flames out with firefighting foam known as AFFF. Ferrara and the other members of the fire crew became unbearably hot as they stood around the fiery pit. For relief, they would cover each other with foam.
'As we're spraying each other, the substance would find its way under our collars and the cuffs of our sleeves. It would penetrate through the weak points of our suits,' Ferrara remembered. The sudsy foam did cool them down. Now, years later, Ferrara and many other civilian and military firefighters who were exposed to firefighting foam that contained the industrial chemicals known as PFAS are developing health problems that they believe are related to those occupational exposures. And despite ample evidence connecting PFAS exposure to multiple diseases, many are finding it difficult to convince others of the connection.
While almost everyone has PFAS in their blood through exposure to water, dust and everyday products that contain the chemicals, firefighters may have greater contact with PFAS than any other group of workers. In addition to using — and often getting doused with — AFFF, it has become clear in recent years that the clothing that was supposed to protect them while fighting fires, known as turnout gear, is also saturated with PFAS.
Given the frequent contact with the toxic chemicals, which accumulate in the body and cause kidney cancer, depressed immune function, and elevated cholesterol, among other health problems, it may not be surprising that firefighters have both relatively high levels of the chemicals in their blood and elevated rates of cancer diagnoses. Firefighters also have a death rate from cancers that is 14 percent higher than that of the general population, according to a study by the National Institute of Occupational Safety and Health.
But some firefighters who have used AFFF now find themselves struggling not just with illnesses linked to the chemical-laden foam and firefighting gear, but also with getting coverage for benefits related to those illnesses. In April, Volunteer Firemen's Insurance Services, a company that provides insurance and other services to firefighters and is a division of the Glatfelter Insurance Group, sent its policyholders a notice that the company would be applying a 'pollution exclusion' to its coverage, specifying that 'the application of the pollution exclusion is extended to any use of Class B firefighting foam containing PFAS…'"
This content provided by the PFAS Project.
Location:
Topics: