'Forever chemicals' now found in Massachusetts schools
By David Abel | Boston Globe | September 9, 2019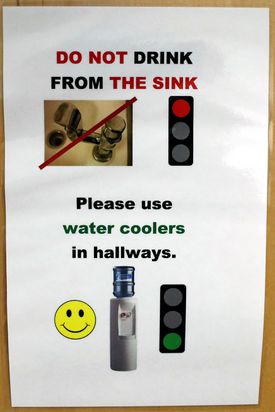 Read the full article by David Abel (Boston Globe)
"STOW — The water fountains have been turned off, wrapped in plastic, or fitted with a device to prevent students from using them. Much of the food preparation has moved off campus, and a water jug sits in the kitchen sink, replacing the faucet. The bathrooms are covered with signs that warn students in bold, red letters: 'DO NOT DRINK FROM THE SINK.'
Just before school started last month, district officials here alerted parents and staff about a 'water situation' at the Center School, and the nearby Hale Middle School. A new, targeted testing program by the state Department of Environmental Protection had found that the water at both schools contained significant amounts of per- and polyfluoroalkyl chemicals known as PFAS, which have been linked to kidney cancer, low infant birth weights, and a range of other diseases…
'I would hazard a guess that virtually every town in Massachusetts has detectable levels, some of them higher than this,' said Kyla Bennett, a former scientist at the US Environmental Protection Agency who now serves as director of Public Employees for Environmental Responsibility in New England, an advocacy group.
Concerns about PFAS, often called 'forever chemicals' because they never fully degrade, have mounted in recent years, and regulators are beginning to take action. Developed in the 1940s, the chemicals have been used in products such as flame retardants, nonstick pans, pizza boxes, clothing, and furniture…"
This content provided by the PFAS Project.
Location:
Topics: