Lawmakers back to square one on 'forever chemicals'
By Rebecca Beitsch | The Hill | December 26, 2019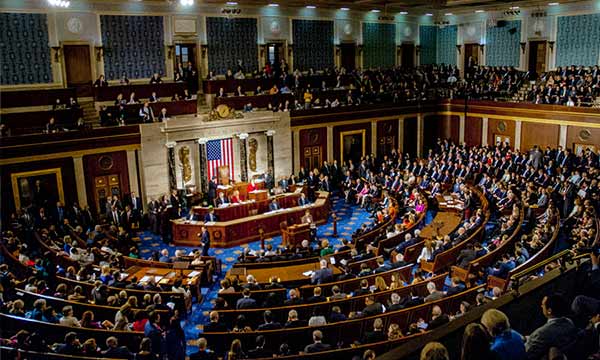 Read the full article by Rebecca Beitsch (The Hill)
"Lawmakers must largely start anew after a major attempt to regulate a cancer-linked chemical that is spreading into the water supply across the United States was stripped from legislation this week, striking the best bet in years to address the problem.
The class of chemicals abbreviated as PFAS is used in products ranging from raincoats to nonstick cookware to firefighting foam. It's been deemed a "forever chemical" due to its lingering persistence in the environment and in the human body.
The defense policy bill, the National Defense Authorization Act (NDAA) seemed like the best chance to move PFAS legislation. The must-pass bill targeted an institution that has been key in the spread of PFAS: the military, which has 425 sites that have been contaminated after exercises involving the heavy use of firefighting foam.
But negotiations on PFAS fell apart this week as some lawmakers were uncomfortable with addressing the issue beyond the military, particularly as they debated whether and how to force the Environmental Protection Agency (EPA) to regulate PFAS in drinking water.
"They were unwilling to compromise, which is not how you get things done in divided government," a Republican aide said of the discussions. Democrats used similar words to describe the demise of the negotiations from their point of view.
Lawmakers on both sides of the aisle who were eager to stem the spread of the dangerous chemical lamented the collapse in talks. The issue had gained renewed attention in the last year, as lawmakers heard from those sickened by PFAS after drinking contaminated water as well as from actor Mark Ruffalo, who testified before lawmakers after starring in a movie about the substance.
Some funding to address PFAS was placed in a House appropriations bill, but the policy effort now rests squarely on a stand-alone bill being pushed by House Democrats over objections from Republicans that it may be too far reaching.
Rep. Paul Tonko (D-N.Y.), a sponsor of the legislation, sees that as a good thing.
"We know there was work done with the defense act, but we believe this issue is of such importance and of such urgency that is needs to stand in its own right and be addressed in a bipartisan, bicameral way that will provide public health standards and public health safety, so that we can move forward having done our work in full," he said on Thursday.
But many of the fights that doomed PFAS provisions in the NDAA are likely to resurface in January, when House Majority Leader Steny Hoyer(D-Md.) has promised to bring the bill to the floor.
The bill should pass easily in the Democratic-led House, and may also make it through the Senate, where there is also an appetite to regulate the substance beyond the confines of the military. But another conference committee would likely hit the same snag. "
Location:
Topics: