Mapping the PFAS contamination crisis
EWG News | April 23, 2020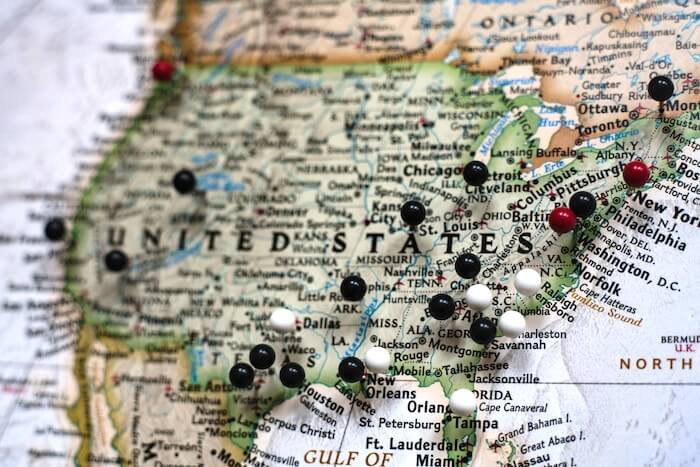 Read the full article by Phil Brown, Alissa Cordner and Lauren Richter, SSEHRI; David Andrews and Olga Naidenko, EWG News
"Research by the Environmental Working Group (EWG) and the PFAS Project at Northeastern University's Social Science Environmental Health Research Institute (SSEHRI), has helped to map the crisis of contamination with the toxic fluorinated chemicals known as PFAS, now recorded at over 1,400 locations in 49 states. This joint project brought significant public, media and legislative attention to the issue of widespread PFAS contamination. Since 2017, this joint project led to more than 600 news stories and more than 860,000 map views.
EWG was an early leader in PFAS research and advocacy. In 2002, EWG began publishing reports on the toxicity of the fluorinated compound PFOA, based on documents made public through the work of environmental attorney Rob Bilott, who brought a federal class-action suit against DuPont for polluting local water supplies in West Virginia and Ohio The law suit led to the biggest epidemiological study on the health effects of PFOA, an 8-carbon PFAS, on human health. The study found a probably link between PFOA exposure with high cholesterol, ulcerative colitis, thyroid disease, testicular cancer, kidney cancer, and pregnancy-induced hypertension.
Over the next decade, EWG wrote reports, tested and found umbilical cord blood contaminated with PFAS, petitioned the Centers for Disease Control and Prevention to monitor Americans for PFAS, and raised alarm about widespread contamination of water and food. In 2015, EWG published a county-level U.S. map that documented hundreds of known PFAS detections in drinking water.
SSEHRI's interest in tracking PFAS contamination began in 2015, when there were only a handful of known contamination sites. Of particular interest was the observation that much of the knowledge about PFAS contamination came through the public voicing their concerns. From the Tennant farm in West Virginia to the discovery of PFOA contamination in Hoosick Falls, N.Y., concerned Americans prompted investigations into PFAS contamination, often against significant opposition and technical barriers.
The collaboration between EWG and SSEHRI helped elevate PFAS contamination from a local and personal concern to the realization that it was a national crisis. In the absence of rigorous monitoring and testing by government agencies, we collectively pooled data to illuminate the extent of this problem in real-time.
The mapping project documented publicly known PFAS pollution in public water systems and on or near military bases, airports, industrial plants and dumps, and firefighter training sites. Initial data about PFAS in drinking water came from two sources: testing mandated under the Environmental Protection Agency's Unregulated Contaminant Monitoring Program in 2013-2015; and SSEHRI's PFAS Contamination Site Tracker, which gathered data from community groups, government reports and the NEWS media. Since that time, tests conducted in many more locations and with increasingly sensitive analytic detection methods have documented that the extent of PFAS pollution is much more widespread than previously thought.
Our collaborative mapping project was publicly released at the First National PFAS Conference in 2017, hosted by SSEHRI and organized by a committee including activists and scientists. EWG President Ken Cook gave a keynote speech to unveil the map, which at that time detailed how PFAS contaminated water in 27 states was in the water supplies for 15 million Americans.
Through periodic updates to the map over the past three years, EWG and SSEHRI added hundreds of additional sites using publicly available government testing data, previously unknown PFAS levels revealed by documents obtained under the Freedom of Information Act, community and social movement information, and news media coverage.
With significant news media attention and website traffic, the map has undoubtedly contributed to greater awareness of the PFAS contamination crisis. In addition, the map's prominence has led to dozens of data requests for SSEHRI's Contamination Site Tracker, aiding state governments academic researchers, and students.
The map has also been used to argue for greater regulation of PFAS. For example, Sen. Tom Carper of Delaware, ranking Democrat on the Senate Environment and Public Works Committee, produced an oversized version of the map and held it up at a hearing in March 2019.
Senator Tom Carper and PFAS map
Today we are proud that communities across the U.S. are responding to the PFAS contamination crisis by organizing and advocating for safe drinking water. Sometimes the source of PFAS contamination is known, such as an upstream discharge of PFAS from industrial sources as documented in North Carolina's Cape Fear River basin, or groundwater contamination from earlier PFAS disposal practices. Other times, determining the source or sources of PFAS contamination is more difficult. To protect public health from PFAS, ensuring clean drinking water is essential, and mapping PFAS contamination sites brings us closer to that goal.
EWG's and SSEHRI's work on mapping PFAS will now branch into two distinct projects.
EWG will continue the map updates, with a focus on capturing the extent of PFAS water contamination as documented by states, the Department of Defense and EWG's own water sampling projects. EWG is also launching a PFAS Atlas that combines the water contamination map, a map of suspected industrial dischargers and a map of PFAS pollution at U.S. Military Bases.
SSEHRI's data will be merged with Silent Spring Institute's PFAS Exchange map that is part of a collaborative project funded by the National Institute of Environmental Health Sciences. That map helps affected residents and community groups to access information about data in their states and to learn how to connect with other activists working on PFAS issues.
Our two organizations are grateful to have had the opportunity to combine our time and skill sets towards an effective public intervention in the global PFAS crisis."
This content provided by the PFAS Project.
Location:
Topics: