Milliken & Company to eliminate PFAS from textile finishes, fibers
By Home Textiles Today Staff | Furniture Today | February 15, 2022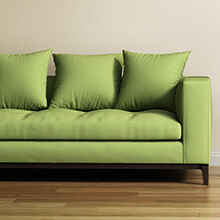 Read the full article by Home Textiles Today Staff (Furniture Today)
"Global manufacturer Milliken & Company has set a goal to eradicate all per- and polyfluoroalkyl substances, commonly referred to as PFAS, from its textile finishes and fibers portfolio.
PFAS are a group of manufactured chemicals that are widely used to make many types of products. They are commonly used in coatings and fibers that resist stains, oil, water, grease and heat. Recent studies have tied PFAS to adverse health impacts in humans, including liver damage, hormone suppression, cancer and thyroid disease.
"Sustainability is a core value of our company, and we are and have always been on a quest for continuous improvement," said Halsey Cook, president and CEO for Milliken & Company. "While we do not always begin our journey with perfect information, we strive to make adjustments as new information comes to light."
Milliken's Textile Business plans to eliminate all PFAS-containing materials from its portfolio by Dec. 31."
Topics: