Pittsboro Leaders Call for National Attention to Town's PFAS Troubles
By D. Lars Dolder | Chatham News + Record | August 27, 2021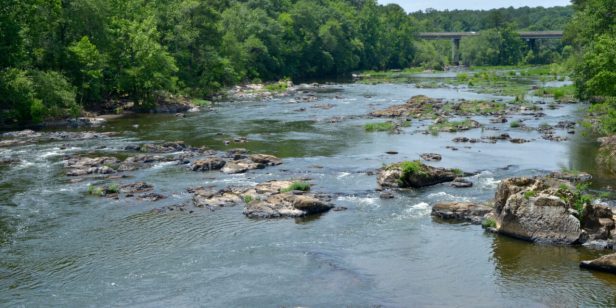 Read the full article by D. Lars Dolder (Chatham News + Record)
"In a specially convened Pittsboro board meeting last week — the second since large 'slugs' of 1,4-Dioxane were recently discharged into the Haw River, from where Pittsboro draws its drinking water — commissioners and town staff doubled down on previous demands for upstream water users to stop polluting the Haw, and called for national media to heighten social pressure.
On July 1, the City of Greensboro and the North Carolina Dept. of Environmental Quality reported a discharge of 1,4-Dioxane — a suspected carcinogen — into South Buffalo Creek, a Haw River tributary, in effluent from Greensboro's TZ Osborne Wastewater Treatment Plant a day earlier. Preliminary samples in Greensboro indicated levels between 543 parts per billion and 687 parts per billion of 1,4-Dioxane were discharged. The U.S. Environmental Protection Agency recommends no more than 35 ppb in healthy drinking water.
In following weeks, 1,4-Dioxane levels in Pittsboro's drinking water oscillated, finally dissipating to non-detectable levels earlier this month. But the unexpected surge in water contamination has ignited a fervor among town leaders to resolve the town's drinking water woes for good. Several commissioners floated the idea of litigation against Greensboro, the state and other upstream parties, but detailed discussions of legal strategy have not been conducted in the public eye.
'But just so the public knows,' Town Manager Chris Kennedy said, 'anytime we're openly discussing features or facets of litigation, generally that's done in closed session by the board to not really show our hand, and that's allowed by state statute'."…
This content provided by the PFAS Project.
Location:
Topics: