Toxic PFAS 'forever chemicals' found in drinking water across Georgia
By Meris Lutz and Stephanie Lamm | The Atlanta Journal-Constitution | September 15, 2023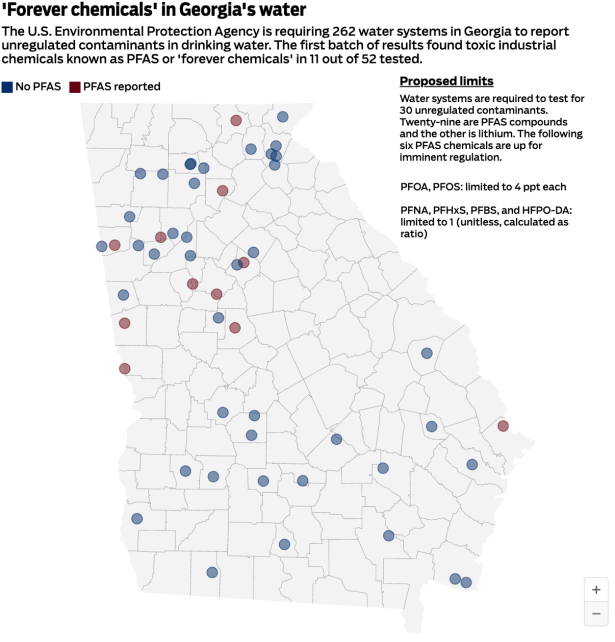 Read the full article by Meris Lutz and Stephanie Lamm (The Atlanta Journal-Constitution)
"A new round of testing has revealed toxic chemicals linked to cancer and impaired immunity, including in children, in the drinking water of nearly a dozen systems across Georgia, according to the U.S. Environmental Protection Agency.
Clayton County, Austell and Covington are among 11 water systems out of 52 tested so far that reported contamination by so-called 'forever chemicals,' also known as PFAS, the acronym for per- and polyfluoroalkyl substances. Widespread PFAS contamination of drinking water systems has been found in recent years around the United States — including in Georgia — since EPA issued health advisories based on new studies showing the chemicals are more toxic at lower levels than scientists previously thought.
The cost of upgrading water systems to remove PFAS from drinking water around the U.S. is astronomical, expected to far surpass the more than $9 billion in federal funding from bipartisan infrastructure legislation to address the issue. In Clayton County alone, officials estimate it will cost $450 million."
This content provided by the PFAS Project.
Topics: