Unclear if Ford Airport will help foot the bill, township moves forward with plan to bring residents clean water
By Michael Kransz | MLive | June 24, 2021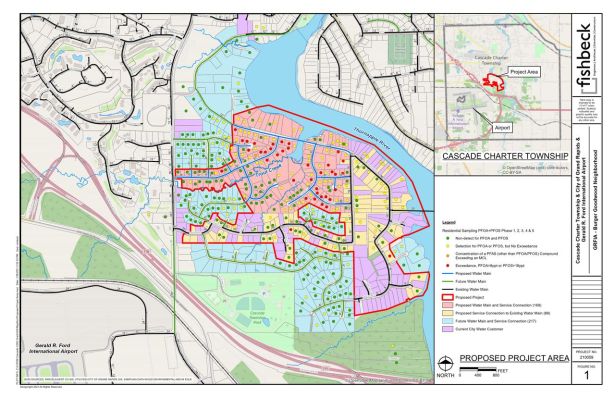 Read the full article by Michael Kransz (MLive)
"KENT COUNTY, MI — Up to 473 Cascade Township homes with wells in an area of polluted groundwater will be connected to municipal water by the end of 2023 thanks in part to a recent $5 million grant from the state.
'Cascade Township is very pleased the state has allocated $5 million to extend municipal water to residents whose drinking water has been contaminated with PFAS,' said Cascade Township Supervisor Grace Lesperance. 'This grant allows us to begin the process of ensuring residents will have access to clean, safe drinking water.'
But questions remain if Gerald R. Ford International Airport will foot the remaining $8.2 million needed by the township to complete the project.
State regulators say Ford Airport's historic, mandated-use of AFFF firefighting foam caused the groundwater contamination in the adjacent Trout Creek neighborhood and could be on the hook for the bill. The firefighting foam, used in both training and emergencies, is laden with toxic per- and polyfluorinated compounds called PFAS.
A total of 40 homes in the neighborhood have levels of PFAS in their water above state drinking water standards, and another 222 had some detection of the chemicals. The Kent County Health Department has provided kitchen sink filters to homes with any level of PFAS detection…"
This content provided by the PFAS Project.
Location:
Topics: