Gillibrand unveils PFAS medical monitoring bill in Hoosick Falls
By Lucas Willard | WAMC | April 5, 2021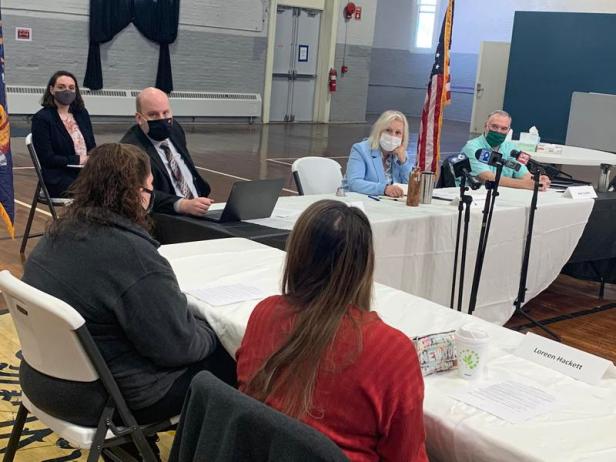 Read the full article by Lucas Willard (WAMC)
"U.S. Senator Kirsten Gillibrand hosted a roundtable discussion with community leaders and advocates Monday in Hoosick Falls where she provided details on new legislation intended to address PFAS contamination and require medical monitoring for those affected by pollution.
The last time Senator Gillibrand came to Hoosick Falls, it was July 2016 for a roundtable discussion on PFOA contamination. During the visit, the Democrat pledged to ban PFOA – the primary contaminant found in the village's water supply, as well as private wells in the Town of Hoosick, and the nearby Town of Petersburgh.
Hoosick Falls has come a long way since the 'emerging contaminant' was first detected, with filtration systems installed in homes and the municipal water supply. New York State has set new maximum contaminant levels for compounds PFOA and PFOS.
But, as Village Mayor Rob Allen said on Monday, there's been one thing that residents are still in need of:
'The one big thing that has been lacking is medical monitoring, something that is very specific and needed because it is due to an exposure to industrial practices of which we had no control,' said Allen…"
This content provided by the PFAS Project.
Location:
Topics: