In Rhinelander Visit, Baldwin Says PFAS Money in Infrastructure Bill Could Help City
By Ben Meyer | WXPR | September 1, 2021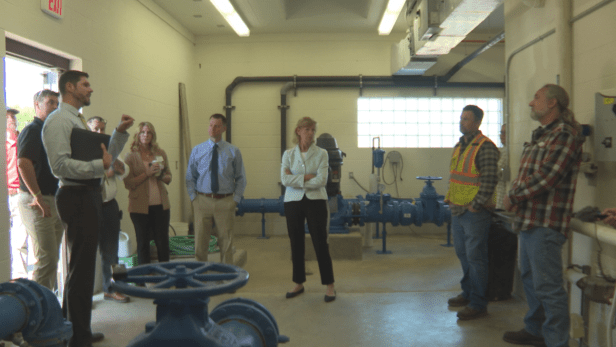 Read the full article by Ben Meyer (WXPR)
"U.S. Senator Tammy Baldwin believes Rhinelander could benefit from billions of federal dollars being proposed to address PFAS contamination in water.
She made that point in visiting the city on Wednesday.
Baldwin toured the wellhouse at Rhinelander's municipal Well 7, learning how it has been offline for more than two years. It was shut off in 2019 when it was found to have high PFAS levels. Those chemicals can cause damaging health effects if ingested.
But Baldwin told city leaders they might have a chance at federal funding to address the issue.
The $1 trillion infrastructure bill, which the Senate has already passed, includes $10 billion for communities to tackle PFAS problems.
'There's an emphasis on helping smaller communities that don't have the tax base that some of our larger communities have to do things that are costly,' Baldwin said. 'Additional treatment at Wells 7 and 8 is a multimillion dollar proposition. A new well in an area where there's not PFAS in the groundwater is also above a million dollar proposition.'
The bill still needs to pass the House and be signed by President Biden."…
This content provided by the PFAS Project.
Location:
Topics: