Indiana-based companies in charge of incinerating military's PFAS firefighting foam stockpiles
By Enrique Saenz | Indiana Environmental Reporter | March 9, 2020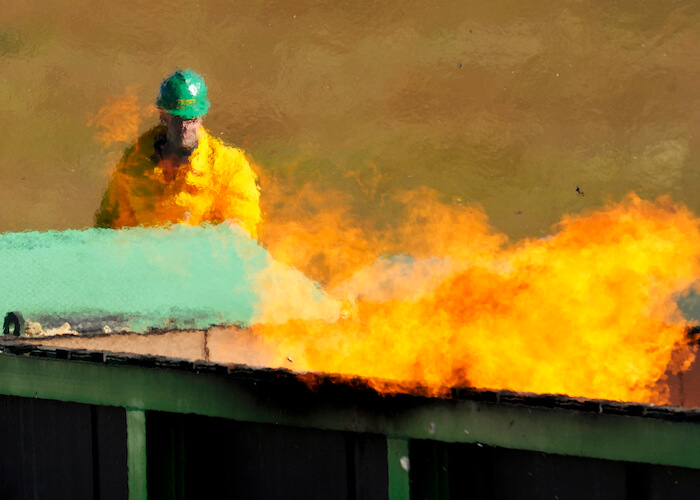 Read the full article by Enrique Saenz (Indiana Environmental Reporter)
"Two Indiana-based hazardous waste treatment companies are playing a leading role nationally in the incineration of the U.S. military's stockpiles of toxic firefighting foam and have landed in the middle of a legal battle.
Indianapolis-based Heritage Environmental Services LLC and Merrillville-based Tradebe Treatment and Recycling LLC signed on as contractors to incinerate hundreds of thousands of gallons of the U.S. Department of Defense's PFAS-laden aqueous film-forming foam.
Environmental advocacy groups from around the country have sued to annul the contracts and stop the incineration of AFFF stockpiles until it can be proven that all PFAS chemicals are broken down and all possible emissions are eliminated.
"Incineration does not solve the Defense Department's PFAS problems; it just pawns them off on already overburdened communities," said Jonathan Kalmuss-Katz, staff attorney for Earthjustice, the legal organization representing the groups in court.
"PFAS chemicals are used in firefighting foam precisely because they don't burn. Instead of destroying those chemicals, incinerating the foam releases PFAS and other toxins into the air. DoD's decision to authorize large-scale PFAS incineration without considering the health impacts is shortsighted and illegal."
PFAS are a group of manmade chemicals that have been used to coat and protect consumer goods since the 1940s. During the 1960s, the U.S. Naval Research Laboratory and the 3M corporation developed PFAS aqueous film-forming foam to suppress aviation fuel fires. The foam proved effective and was made available to civilian firefighters in the 1970s.
Researchers found that PFAS chemicals were linked to a series of adverse health conditions, including liver damage, pregnancy-induced hypertension, lowered birth weight and an increased risk of developing certain types of cancer.
The chemicals were also found to be persistent, meaning they stayed in the environment years after they were used.
A series of lawsuits revealed that 3M and other PFAS manufacturers knew about the toxicity and persistence of the chemicals for decades. One of those lawsuits was made into a 2019 movie, "Dark Waters,"starring Mark Ruffalo and Anne Hathaway.
The U.S. Environmental Protection Agency issued drinking water health advisories for PFOS and PFOA, two of the more than 5,000 known PFAS chemicals, in 2016.
Several months before the health advisory was released, the U.S. Department of Defense began to take steps to identify and address elevated levels of the two chemicals.
"To prevent further releases into groundwater, DoD issued policy in January of 2016 requiring the military departments to stop using AFFF during maintenance, testing and training," Maureen Sullivan, deputy assistant Secretary of Defense for environment testified before the U.S. Senate Committee on Environment and Public Works. "The policy also required the military departments to remove and properly dispose of supplies of AFFF containing PFOS."
Several military installations in Indiana were found to have varying levels of PFAS contamination, including the former Grissom Air Force Base near Kokomo, Jefferson Proving Ground near Madison, Hulman Field in Terre Haute and Naval Surface Warfare Center Crane in Martin County.
The contamination was traced back to firefighting foam testing.
The military services began planning to move on from the PFAS foam and to get rid of the stockpiles it had left.
The Defense Logistics Agency, the DoD's support agency, entered into a 30-month contract with Heritage Environmental Services LLC in 2016 to begin incineration."
Location:
Topics: