Newly released data disclose Navy knew of toxic PFAS chemicals in groundwater at Grumman 'fence line' in 2016
By Denise Civiletti | Riverhead Local | November 21, 2020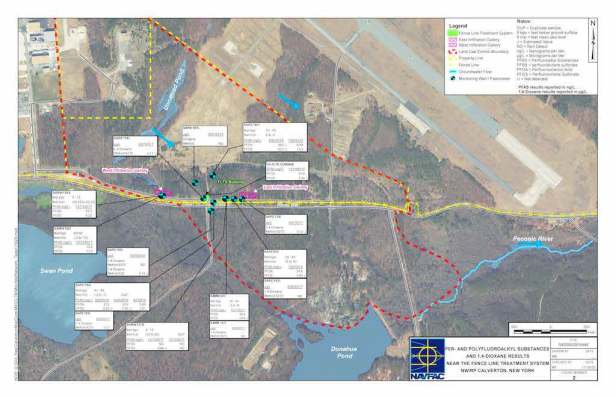 Read the full article by Denise Civiletti (Riverhead Local)
"Data released by the Navy this week for the first time show significant detections of toxic PFAS chemicals at the southern border of the former aerospace manufacturing site.
Detection of the chemicals at the southern boundary of the site is significant, because it supports the position of elected officials, environmental advocates and community members that the chemicals could migrate offsite and pose a risk to private drinking water wells in the area and the Peconic River.
The Navy had not previously disclosed the data on PFAS chemicals in samples taken at the fence line system dating back to December 2017 — and in one instance, September 2016.
A Navy representative at an April 17, 2018 community meeting did reference sampling for PFAS at the fence line in the months prior to the meeting but did not provide the test results data.
The PFAS chemicals in some of the fence line samples exceeded the drinking water limits for the contaminants adopted this year by New York State — some by substantial amounts.
The Navy has previously disclosed PFAS contamination on the property itself and continues to investigate the extent of the contamination of the soil and groundwater onsite.
The Navy has sampled groundwater and drinking water wells within one mile of the property line for PFAS and has concluded no further offsite investigation is required. Environmental advocates and elected officials have demanded that the Navy test groundwater and private drinking water wells beyond the one-mile radius, arguing that any plume emanating from the former Grumman site could already have traveled beyond the one-mile line. So far, the Navy has stood fast in its position that a larger testing area is unnecessary…"
This content provided by the PFAS Project.
Location:
Topics: