Polluters could pay billions in fines for PFAS cleanup under new Biden plan
By Tom Perkins | The Guardian | August 29, 2022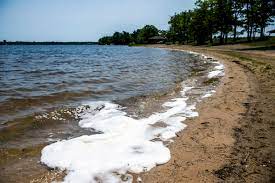 Read the full article by Tom Perkins (The Guardian)
"The Biden administration on Friday announced a new proposal that could force polluters of two common PFAS compounds to pay billions of dollars for the toxic substances' cleanup.
The Environmental Protection Agency is proposing to designate PFOA and PFOS as hazardous substances under the Superfund law, the statute that guides cleanup at the nation's most contaminated sites.
The proposal, which officials are aiming to finalize in 2023, could accelerate cleanup efforts at hundreds of manufacturing facilities, military bases, airports and other sites where the chemicals are frequently used, and which are contributing to the contamination of drinking water supplies for an estimated 200 million people nationwide.
Public health advocates largely praised the change, though some said it would fail to adequately address widespread contamination."
This content provided by the PFAS Project.
Topics: