State Regulators Expect to Spend More Than $500K A Year On Bottled Water For French Island Residents Due to PFAS
By Danielle Kaeding | Wisconsin Public Radio | October 6, 2021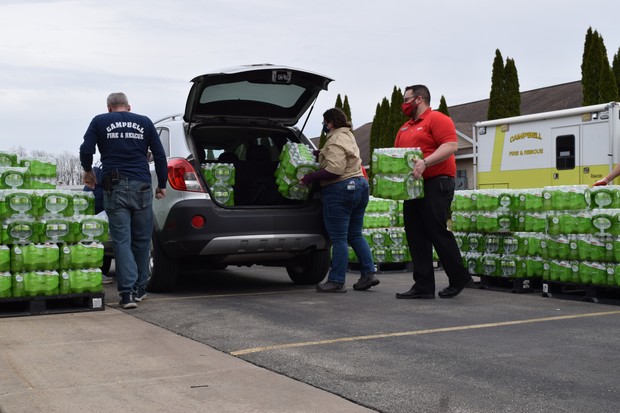 Read the full article by Danielle Kaeding (Wisconsin Public Radio)
"State environmental regulators expect to spend more than a half million dollars each year to provide bottled water to nearly 1,200 households on French Island due to concerns stemming from PFAS contamination.
The Wisconsin Department of Natural Resources and Department of Health Services issued a drinking water advisory in March, making bottled water available to as many as 4,300 residents on the island near La Crosse. The two agencies intended to keep the advisory in place for as long as six months, but they extended the advisory indefinitely in August.
'There isn't a timeline specified at which point we will no longer provide bottled water,' said Dave Rozeboom, the DNR's project manager for French Island. "It will be an ongoing evaluation as we get more data and as the site investigation proceeds."
PFAS, or perfluoroalkyl and polyfluoroalkyl substances, are a class of thousands of so-called 'forever chemicals' that have raised concern because they have been linked to an increased risk of kidney and testicular cancers, thyroid disease and fertility issues. The chemicals are found in firefighting foam and everyday products like nonstick cookware, and they don't break down easily in the environment.
The DNR is providing bottled water to 1,162 households with money from the agency's environmental repair fund. Rozeboom said the DNR has spent just under $96,000 for services invoiced through the end of May, but the agency expects to spend $550,000 to $600,000 each year on French Island.
'We had to defund other projects in the state in order to fund bottled water for French Island. So, it is a strain on our fund, and we feel, though, that it's necessary that we continue to fund this project,' said Rozeboom. 'So, we will do so for the foreseeable future, as long as we have the funding to support that.'
The agency receives an allocation from the state of roughly $2.3 million each fiscal year for the fund, according to figures provided by the DNR. The money pays for investigation and cleanup of polluted sites where a responsible party does not exist, as well as temporary emergency water.
Health officials recommended the advisory remain in place after reviewing PFAS results in private wells on the island, which showed widespread low-level contamination and higher levels in localized areas.Testing shows 31 percent of samples (165 out of 539) from private wells showed levels of PFAS in drinking water deemed unsafe by state health officials. Rozeboom said regulators didn't feel it was wise to revise the advisory given the potential for fluctuation in levels of the chemicals."…
This content provided by the PFAS Project.
Location:
Topics: