Tests reveal toxic 'forever chemicals' in aerial pesticide showered over millions of acres in US
By Jessica Corbett | Common Dreams | December 1, 2020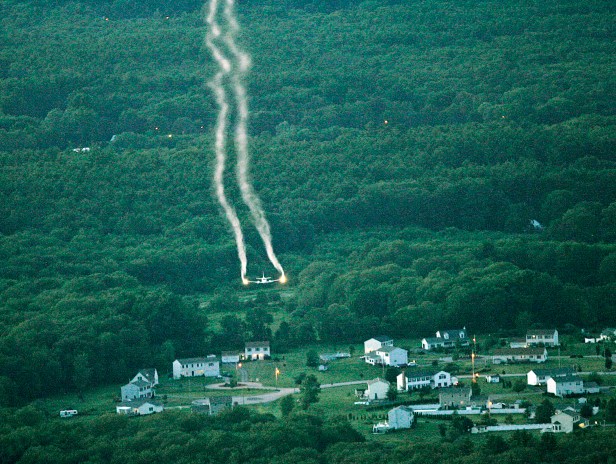 Read the full article by Jessica Corbett (Common Dreams)
"A national nonprofit revealed Tuesday that testing commissioned by the group as well as separate analysis conducted by Massachusetts officials show samples of an aerially sprayed pesticide used by the commonwealth and at least 25 other states to control mosquito-borne illnesses contain toxic substances that critics call 'forever chemicals.'
Officially known as per- and polyfluoroalkyl substances (PFAS), this group of man-made chemicals—including PFOA, PFOS, and GenX—earned the nickname because they do not break down in the environment and build up in the body. PFAS has been linked to suppressed immune function, cancers, and other health issues.
Lawmakers and regulators at various levels of government have worked to clean up drinking water contaminated by PFAS. The newly released results of pesticide testing by Public Employees for Environmental Responsibility (PEER) and the Massachusetts Department of Environmental Protection (MADEP) generated alarm about the effectiveness of such efforts.
'In Massachusetts, communities are struggling to remove PFAS from their drinking water supplies, while at the same time, we may be showering them with PFAS from the skies and roads,' PEER science policy director Kyla Bennett, a scientist and attorney formerly with U.S. Environmental Protection Agency, said in a statement Tuesday.
'The frightening thing is that we do not know how many insecticides, herbicides, or even disinfectants contain PFAS,' added Bennett, who arranged for the testing. 'PEER found patents showing chemical companies using PFAS in these products, and recent articles discuss the variety of pesticides that contain PFAS as either an active or an inert ingredient.'
The product tested initially by PEER and subsequently MADEP, once the nonprofit alerted the department of its findings, is Anvil 10+10, produced by the Illinois company Clarke…"
This content provided by the PFAS Project.
Location:
Topics: