Waccamaw Siouan Tribal Members Are Sick, And They Want To Know Why
By Hannah Towey | The Pulse | September 17, 2021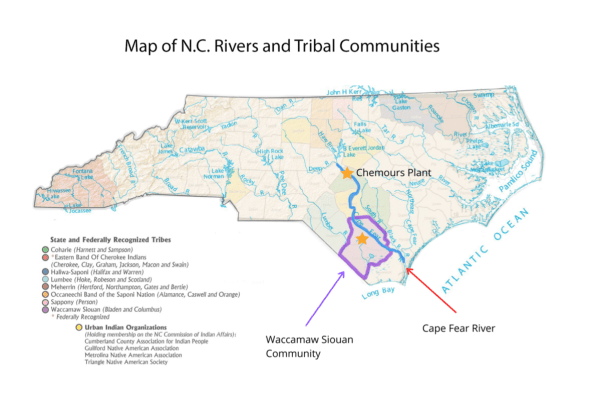 Read the full article by Hannah Towey (The Pulse)
"The Waccamaw Siouan, one of eight state-recognized Native American tribes in North Carolina, are known as 'The People of the Falling Star.'
Tribal history says their homeland was formed when a meteor struck the earth thousands of years ago. Water from nearby lakes and rivers then flowed toward the crater, forming Lake Waccamaw, now a state park in southeastern N.C.
Members of the community pass down this story as one way to preserve a culture and identity that colonizers and the U.S. government systematically erased throughout history.
The Chief of the Waccamaw Siouan tribe, Michael Jacobs, retells this history in a voice both deep and captivating, a quality that aids in his success as both a preacher and activist.
'I'm not afraid to make some noise,' Jacobs said. 'God gave me a big mouth, and I'm going to use it.'
But Jacobs's voice begins to falter as he recalls moments in life when his mouth wasn't big enough— when his two uncles died from a rare form of cancer when he was 16; when his father died from prostate cancer five years ago; when two young children in his tribe died just as they were beginning to read; when several Waccamaw Siouan women died of breast cancer.
Everyone knows someone who is sick, but nobody knows why.
The biggest threat to the tribe today is also what has sustained them— the local water. An estimated 1,200 members of the Waccamaw Siouan tribe live just 10 minutes from the Cape Fear River, one of the most PFAS-contaminated rivers in the country.
PFAS chemicals, also known as per- and polyfluoroalkyl substances, are associated with birth defects, cancer, high cholesterol, obesity and an array of adverse health concerns. They are often called "forever chemicals" because they don't break down easily, with the ability to survive for thousands of years. GenX is one of 5,000-plus types of PFAS.
The main source of the river's GenX pollution is identified as DuPont de Nemours, Inc., owner of the Fayetteville Chemours plant. The massive chemical company is located about 42 miles upstream of the Waccamaw Siouan tribe.
In the 1950s, DuPont grew to be the world's largest chemical company because of a product called Teflon, found in many consumer products, such as non-stick pans and popcorn bags. In 2016, scientists discovered a type of PFAS known as GenX in the Cape Fear River, which runs southeast from Fayetteville to Wilmington."…
This content provided by the PFAS Project.
Location:
Topics: