These pets have high levels of forever chemicals in their blood. Has that made them sick?
By Greg Barnes | North Carolina Health News | May 10, 2021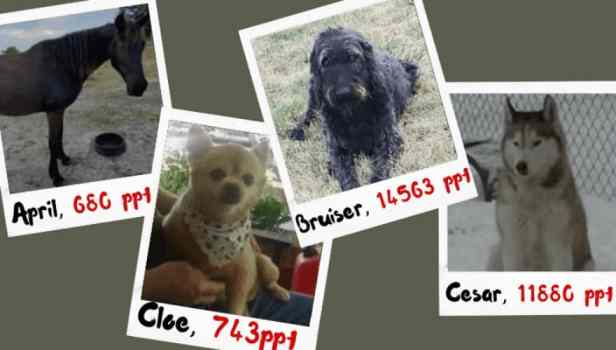 Read the full article by Greg Barnes (North Carolina Health News)
"Mike Watters saved the second report from N.C. State University's Pets and Equine Testing Survey for last.
Two of Watters' beloved Siberian huskies had participated in the study. While both had health issues, Watters said, they were much more pronounced in Cesar.
Watters said he started noticing the problems a year and a half after his family moved in 2012 to a home about a mile from the Chemours Fayetteville Works chemical plant in Bladen County.
Cesar continually lost his hair and got sores on his back. He had numerous fatty tumors, and, later in life, developed a pancreatic disorder and other gastrointestinal issues, Watters said.
Cesar died in March at age 13, shortly after researchers at N.C. State tested his blood for per- and polyfluoroalkyl substances known as PFAS or 'forever chemicals.'
Watters knew that his well water had long been contaminated with PFAS that floated out of the chemical plant's vent stacks and fell with the rain on his property. Now he was about to find out if those same chemicals had accumulated in Cesar and his brother, Loki.
N.C. State researchers had taken blood samples from 31 dogs and 35 horses that live near Chemours and analyzed them for the presence of 34 types of PFAS. Watters recently received the results.
He said he opened Loki's report first. Loki's PFAS readings were high, but Watters said they were in line with what he expected.
'And then I opened up Cesar's and saw 11,800 parts per trillion and I busted down crying,' Watters said. 'That absolutely struck me. I mean that was like a stab in the heart.'
North Carolina and the federal government do not regulate PFAS, which are commonly used to make everyday products water, grease and stain-resistant. The U.S. Environmental Protection Agency has set a health advisory level for only two of the oldest types of PFAS — perfluorooctanoic acid (PFOA) and perfluorooctane sulfonate (PFOS) — at 70 parts per trillion, either by themselves or in combination.
The total PFAS concentration in Cesar's blood was 169 times higher than the EPA's health advisory for PFOA and PFOS…"
This content provided by the PFAS Project.
Location:
Topics: